lowers front by 30-50 mm and rear 35-55 mm
KW Variant 3 "inox-line"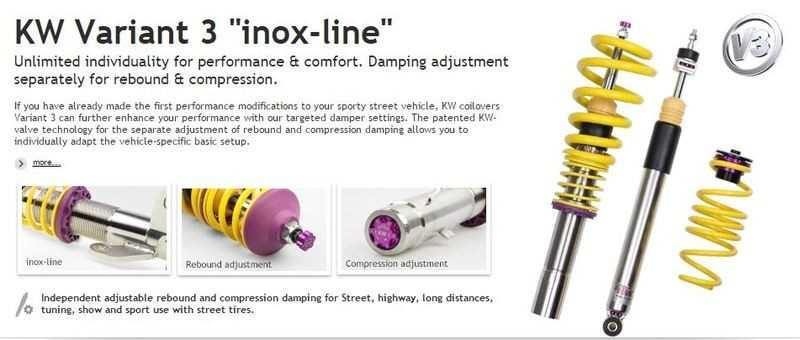 Unlimited individuality for performance & comfort.Damping forces can be adjustment separately in rebound & compression.Our engineers have developed a sporty yet harmonious basic setup, as with any KW coilover kit. To be able to guarantee the perfect suspension setup we test on our KW 7-post rig, as well as extensive driving tests on country roads, motorways and even on the Nürburgring Nordschleife. For years, the KW coilover kit Variant 3 "inox-line" is one of the top aftermarket products and is a benchmark for coilovers. It convinces sports car drivers, tuner, large-and small series manufacturer such as Alpina, MTM, Manthey, Oettinger and many more leading companies in the international automotive industry with its damping characteristics, quality finish and durability.
Advanced technology from motor sportWith the KW coilovers Variant 3 "inox-line" you will get much more than just a sporty lowering and excellent driving behaviour on all roads. It is based on our long experience as a suspension manufacturer and supplier for international motor sport, such as the touring car series ADAC GT Masters, FIA GT1, FIA GT3, International GT Open, WTC, VLN and the legendary ADAC Zurich 24h-race Nürburgring.
Similar to our racing coilovers from the KW Competition program, the KW coilovers Variant 3 "inox-line" can be adjusted independently in compression and rebound damping. This individual adjustment possibility is much appreciated by sports car manufacturers, tuners and drivers worldwide.
The perfect suspension setup for more driving pleasureIf you have already made your first performance modifications to your vehicle our KW coilovers Variant 3 will compliment your upgrades. The patented KW-valve technology for separate adjustment of rebound and compression damping allows you to individually setup your suspension.The adjustable KW bottom valve adjusts the low-speed range of the compression level in twelve clicks.
You don't need any adjusting tools because of the patented compression adjuster at the lower end of the stainless steel housing. The adjustable compression damping with its twelve exact clicks allows you to manually influence body roll, without having to change the spring rate which optimally matches the rebound.
With the individually adjustable rebound setup of the KW coilover Variant 3 "inox-line", you can directly influence the handling and comfort with its precise click adjustment. Depending on the vehicle type, the rebound valves of the KW twin-tube dampers on the upper end of the piston rod will be adjusted via an integrated adjustment wheel or a twist-adjustment wheel which is included in the delivery content.
By increasing the rebound force via the adjustment wheel body movements are reduced. You will have more stability during high speed cornering. If you change for example the wheel / tire combination (approved by the car manufacturer) to larger wheels, then with a KW coilover Variant 3 "inox-line" you will be able to adjust the car's handling perfectly.Print product description
High quality, individual and durableThe KW coilover Variant 3 "inox-line" kit and every single damper are subject to extensive quality tests during production to meet the high standards of our KW quality management. This is the only way we can meet our expectations to give up to five years warranty on our KW coilover Variant 3 "inox-line" when installed at one of our KW specialist dealer. KW coilover struts made of stainless steel are 100% rust-free and an unlimited life time.
Therefore the operation of the continuous lowering via the dirt-resistant KW trapezoid thread and the KW composite collar is also not affected after years. By the individual lowering with its continuous adjustment range, you can emphasize the sportiness of your vehicle visually. A feature that is very popular in the performance-oriented tuning scene.
- Rebound and compression damping adjustable damper technology- Stainless steel technology "inox-line"- Individual, continuous lowering- TÜV-tested adjustment range- High quality components for a long life- Complete documentation for an easy handling- Adjustable rebound damping with 16 exact clicks- Adjustable compression damping with 12 exact clicks- Unique, independent from each other working damping force adjustment
Setup: The individual adjustable rebound- & compression damping of the KW Variant 3 "inox-line"The KW coilover kit Variant 3 "inox-line" is the perfect accessory for performance-oriented drivers and tuning enthusiasts who put a great demand on their suspension. The separately rebound and compression damping adjustable dampers with their "well-thought-through" click adjustment allow a perfect setup. So it is easy to influence the steering behaviour, directional stability, tire grip and handling characteristics when driving on the lim

Height adjustable front and rear axles (front axle threaded strut housings, rear axle adjustable springs + dampers)Dampers are adjusted by easily operating adjustment wheels. Rebound is only adjustable if the top of the piston rod is accessible. This will depend on the vehicle construction.Electronic damping control has to be deactivated. Deactivation kit is included in the delivery
If you would like to know the delivery timescale of an item, Please contact our support team via the support inbox. Some items are Made to order and some are also Shipped direct from supplier which can add delays to the order. For up to date accurate information please get in touch to avoid the fees detailed below
Warranty
At CEUK we pride ourselves on not only our service, but our products! 
We believe in everything that we offer and know that you will be satisfied with your purchase.
However, We also understand that sometimes an issue can occur! At CEUK, we have a saying: "Get it right, or Put it right!"
Because of this very fact at CEUK we offer 12 months minimum warranty on every item - in fact some items are covered for longer!
If you experience any problems with a CEUK product that you have purchased, all you have to do is simply contact our online support team via our Facebook Page by clicking "here". 
Upon receipt of your message, our warranty team will investigate the issue at hand, This may include the following:
-Video / Photo of the guilty product not working in the car
-Questions to gather our own interpretation of what has happened to the product
-We may ask you to complete a few tasks to test the item to gather whether it is faulty item or another issue.
-CEUK May ask you to return the item for us to run our own tests and determine the fault prior to repair/replacement. If upon the item being returned we find a fault, we will reimburse you the customer for the return postage. If no faults are found, we will not reimburse you for the return postage and you may be charged to have the item returned to yourself.
The list above is an example of what we may ask. This is not to get out of the warranty, but more to ensure that a warranty replacement is required, as more often than not we can resolve the issue by a few simple adjustments and tests.
CEUK may ask you to return the damaged / faulty item to us so we can look at rectifying any future issues!
CEUK Warranty only applies to the original order and is none transferable. EG: If you purchase a CEUK Product second hand from a CEUK Customer, the warranty expires.
Changes, Modifications & further damage caused to items by your own doing are not covered under warranty. Please do not attempt to repair or change an item from its delivered state as this will void warranty! 
**Please Note**
As per our terms and conditions, CEUK reserves the right to refuse to provide warranty to our customers if we feel it is not appropriate to do so. We will not make this decision lightly and our reasoning for declining a warranty replacement will be detailed to the affected customer.
Customers who take to social media & leave negative reviews to slander CEUK products and reputation may not be eligible for a warranty claim, especially where the opportunity to resolve the issue was not first allowed.
Fitting Costs:
Unfortunately CEUK can not be held liable or expected to refund any fitting or installation costs of parts which have developed a fault. Under the laws of distance selling our warranty expectations lie solely with the product at hand, and if a fault is evidenced and accepted under the warranty policy this item may be refunded / replaced, but any subsequent labour costs are not covered under the warranty policy!
In House Fitting:
Any issues which arise or are claimed to arise as a result of installation at CEUK must be brought back to CEUK for rectification. CEUK will not cover the costs of labour or any other costs as a result of a customer taking the vehicle elsewhere to be viewed. Any claims of losses due to a customer taking a vehicle elsewhere are not covered under this policy!
The vehicle MUST be brought to CEUK in the light of any suspected issues, and if a fault or issue is found, then CEUK MAY reimburse the customer!
By purchasing from and / or arranging a booking at CEUK you agree fully to the above warranty guidelines!
_________________________________________________________
Returns
Please note: Some brands have their own specific return policies in place which are reflected in our policies below - Please ensure you check this!
 (R1.1) Should you change your mind, or no longer require the item you have purchased within the first 28 days of receiving the goods; You can return your item to us for a refund or exchange. You must notify CEUK within 14 days of purchase that you wish to return it. Once we have been notified, you have a further 14 days - or upto 28 days from date of purchase for the goods to be back in our possession!
Request for a return after 14 days, or goods received back after 28 days will not be accepted - As per Section 22 Sub Section 3 of the consumer rights act 2015
Please note: The item you are returning must not have been removed from the packaging or used in any way. Damaged, marked or removed packaging will result in a refund being refused. The item must be returned to CEUK in the manner it was sent.
(R1.2) Please Note: Returns are subject to a restocking fee of 20% - This will be deducted from your refund upon receipt of the returned items. CEUK will not cover the shipping cost of the returned item nor will we refund the shipping from CEUK to yourself as this was a service which was provided, and can not be returned!
The re-stocking fee is calculated as follows. Total Sale Value, Minus Shipping costs, Minus any discounts used, Minus 20% = amount refunded
(R1.3 ) We may in some cases opt to waive the restocking fee - However this decisions will be made by our returns team upon receipt of the return. Please be advised that if we waive the fee once as a goodwill gesture this does not guarantee future waivers and this is a goodwill gesture from CEUK.
(R1.4) Any third party items (Such as Milltek, Scorpion, Cobra, Maxton Design etc) MUST be returned to us in their original packaging. We will refuse return of items that are not returned to us in their original box and/or packaging! This also applies if the Box / packaging is damaged to the point where it can not be sent out looking like a "Brand New" item! 
(R1.5) Simply contact our support team to arrange a return and we can get proceedings underway, However be advised that the return is at the cost to the customer!
(R1.6) CEUK can in no way reimburse you for return postage, further to this; if a refund is granted it will only be for the amount of the product, and not the outbound postage costs.
(R1.7) Returns where this is as a result of an item arriving damaged or faulty - CEUK must be notified within 14 days of delivery. If you believe the item is used, damaged or faulty and do not notify us within 14 days, a claim may be invalid.
If you install an item that is damaged, this then waives the right to return. All items should be inspected thoroughly for damage and / or marks prior to install, as this makes it black and white as to whether the damage occurred during transit or once installed! If you choose to install a damaged item without inspecting it first then unfortunately this waives any return as we can not prove otherwise. It is important to check every delivered item thoroughly!
(R1.8) Where the Re-Stocking Fee is waivered - the cancellation fee will apply, information of this is detailed below!
(R1.9) Any Glass lighting from CEUK, regarding Halogen, HID, BiXenon or similar can not be returned. Unfortunately if the glass gets contaminated with dust or finger prints their lifespan is reduced by almost 95%, Once received these can not be returned!
Maxton Design Specific Return Policies:
Returns
Original condition - We must make sure a product is in its original condition before it can be returned to us. If the protective film is removed it will void a return. Similarly, all of our products have holographic verification stickers, if this is removed, we cannot accept a return either.
Fitting kits / Manuals – If a customer returns a product and it does not include a fitting kit or manual, Maxton deduct a £10 fee. There is a £10 fee because if a customer wishes to purchase a kit from us, this is how much it will cost.
Packaging - Items not sent back in their original undamaged Maxton Design Box may be refused
_________________________________________________________
Cancelling an order prior to dispatch!
(C1.1) Should you wish to cancel an order prior to dispatch you will be eligible for a refund in line with the below cancellation policies.
(C1.2) Contact our support team at support@ceuk.org with your order reference, the item(s) you wish to cancel as well as the cancellation reason.
(C1.3) If the item is a made to order item, you may not be able to cancel the order and once received will be able to return the item to ourselves subject to our return policy!
Charges incurred from Cancelling an order:
(C1.4) As per the CMA Guidelines issued by the UK Government (https://www.gov.uk/government/publications/cancelling-goods-or-services-guide-for-consumers/cancelling-goods-or-services) Consumer Law states that as a business, Certain losses ascertained as a result of an order cancelled by a customer due to their own change of mind or circumstances can be retained by the business in the form of a "Cancellation Fee" - This is to recover losses incurred in the form of fee's or administration!
The calculation of the fee is as follows:
%XX Incurred from Payment Provide (Credit card / Paypal) + %YY Incurred from Payment Gateway (Our Provider) + %1 Administration / Staff Charge
PayPal Example: If your order totalled £500 and you paid by PayPal, The fee from Paypal is £9.80 (1.9% + £0.30) - The fee from the payment gateway is £5 (1%) and the Admin charge is £5 (1%) - total deduction of £19.80
Card Example: If your order totalled £500 and you paid by Card, The fee from Card Provider is £9.70 (1.9% + £0.20) - The fee from the payment gateway is £5 (1%) and the Admin charge is £5 (1%) - total deduction of £19.70
Why is this charged? 
As of 5th March 2020, PayPal no longer refunded fee's to the seller in the event of a refund. As a result, when CEUK refund your cancelled order, the Fee's charged from both PayPal and the Payment Gateway are lost by CEUK!
This has always been the case with debit & credit card providers.
When is this not charged?
Deductions are not made from refunds when the refund is as a result of warranty issues - If the cancellation is requested within 24 working hours of the order being placed, CEUK will waiver the 1% Admin / Staff charge.
Why am i paying an Admin / Staffing charge?
As a result of your cancellation, Our team will need to take action to cancel your order, whether this is as simple as pulling the order from our own production schedule, or more intense where it involves contacting suppliers to ensure that the order is stopped. This unfortunately incurs a cost to the business and as that cost is incurred due to a change of mind from the customer, British consumer law allows for charge providing it falls within a genuine estimate of the businesses direct loss!
References for this policy:
Consumer rights act 2015 > https://www.legislation.gov.uk/ukpga/2015/15/contents/enacted
CMA Cancelling of goods and services > https://www.gov.uk/government/publications/cancelling-goods-or-services-guide-for-consumers/cancelling-goods-or-services
Distance Selling Guidelines > https://www.gov.uk/accepting-returns-and-giving-refunds