---
---
Fiesta ST180 MK7 Pro Spec Curved Intercooler
The new Pro Alloy 'PRO' spec curved Fiesta ST front mount intercooler has been specifically designed and developed to cater for the demand within the Ford tuning industry for a high quality, high performance intercooler kit which can still be fitted to the car without the need to cut, modify or remove any of the original front panel or bumper detail, but still be very capable of dealing with the ever growing desire to push these great little pocket-rockets further and further with their power figures, nicely filling the gap between our original Fiesta ST Front Mount kit and our 'Competition' Spec kit.
Back in 2013 when we developed our original large up-rated front mount intercooler for the Fiesta ST, 250 BHP was considered as 'Big Power' for these great little cars! However, things have moved on a lot with the tuning of the Fiesta ST over the last 8 years, with many specialists and tuning companies now offering a variety of different turbo conversions, it's now not unusual to see road cars running in excess of 320 BHP.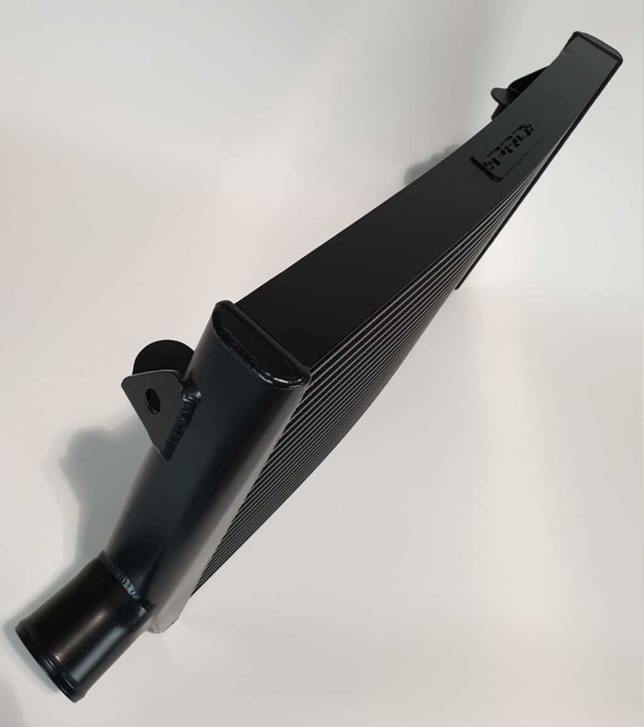 The limitations with the design of our original Front Mount kit, and for most other manufacturers of kits for the Fiesta are simply down to the space available between the bumper bar and the rear of the bumper. However, in recent months Pro Alloy have developed some new processes and some impressive techniques allowing us to build curved intercooler cores, which for this application have enabled us to build a core which is curved to exactly mirror the profile of the Fiesta bumper bar.
This new curved design has enabled us to build a thicker, full frontal intercooler which boasts an all important and impressive 45% increase in calculated internal flow capabilities over our original Fiesta ST front mount kit.
In addition to this, the core is constructed utilised our lightweight ultra high efficiency core design, which benefits from an exceptionally thin wall core tube specification complete with a fully brazed internal turbulator giving the optimum in heat transfer properties and cooling performance.
This, combined with the exceptional internal flow capabilities, ensures that this intercooler not only provides excellent cooling, but also provides exceptional performance with very little pressure drop ensuring throttle response and 'Lag' is greatly improved over a number of other intercoolers available for this car.
Key Features:
Simple DIY fit with no drilling or cutting required.
Supplied complete with connecting pipes, hoses and all mounting hardware
Minimum ambient airflow restriction to ensure water cooling isn't compromised
Huge core surface area and Internal flow capabilities
Ultimate Lightweight high efficiency tube & fin intercooler core design
Handcrafted smooth flowing fabricated & TIG welded end tank design for optimum internal flow
4kg total Intercooler weight
Available in a durable Black Powder coated finish or Satin Silver Finish
Choice of coloured 'Pro' logo
Fiesta ST MK7 'PRO' Spec (Curved) Intercooler – Test Date 18.12.18
Vehicle Details
APT Fiesta ST - Stage 4 Revo / RT330 Turbo / Measured Peak Power = 330 BHP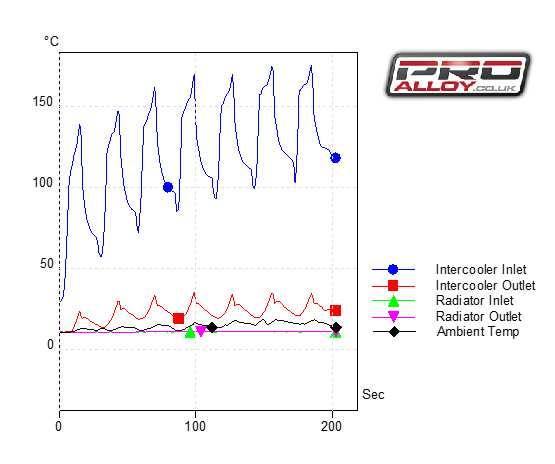 Result Summary
Peak Intercooler Inlet Temp °c = 182.47 °c
Peak Intercooler Outlet Temp °c = 29.71 °c
Peak Ambient Temp at reading point = 19.12 °c
Notes:
Ambient air temperature reading measured inside Dyno cell against offside cell wall, in-line with front of car using Type K Thermocouple sensor.
Intercooler inlet & outlet temperature readings measured at on centreline of pipe diameter
---
If you would like to know the delivery timescale of this item, Please contact our support team via the support inbox. Some items are
Made to order
and some are also
Shipped direct from supplier
which can add delays to the order. For up to date accurate information please get in touch to avoid the fees detailed below
---
Please Note:
Cancellation & Re-Stocking charges
will be incurred if the item is cancelled and / or returned due to a change of mind. This also relates to orders cancelled due to not wanting to wait for an item. If you are in a rush for an item please contact our support team (support@ceuk.org) via Email to check this item is in stock - As cancellation or return of the order can and will result in fees being incurred! By continuing with the purchase of this item, you are agreeing to the terms and conditions set out in our "
Warranty, Returns & Cancellation policy
" and agree to the fees detailed above!
---